Vernis Dual-Cure / Vernis de Protection
Norilux® DCAL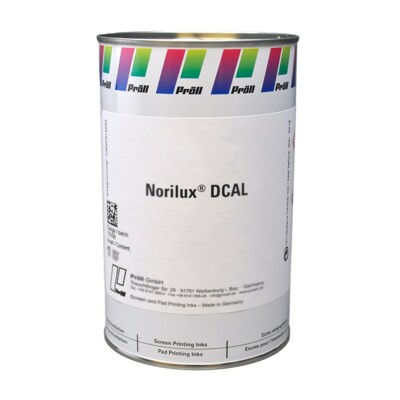 Area of Application
Norilux® DCAL is a formable, abrasion resistant dual-cure screen printing lacquer.
Norilux® DCAL can be used as first surface protective lacquer/hard coat on metal substrates, for example aluminum. The ink systems NoriScreen® ALU and NoriPUR® can be overprinted with Norilux® DCAL as a protective lacquer. It is possible to create matt-glossy-effects on one part with this lacquer system. The over-printability as well as subsequent process steps must be tested thoroughly on each part.
Cured lacquer layers of Norilux® DCAL are resistant to chemicals and pass various "creme tests" of the automobile industry.

Characteristics
Norilux® DCAL
available as high gloss version DCAL-6/001
available as matt version DCAL-6/002
can be used for overprinting silicone free UV, solvent and water-based screen printing inks
is formable, e.g. by high pressure forming or thermo forming
shows excellent abrasion resistance
shows excellent resistance to chemicals
further gloss levels are available upon request
translucent/tinted lacquers are available
versions containing levelling agents based on silicone compounds are available on request
effect lacquers (e. g. sparkling effect) are available upon request

Plus d'informations sur: Downloads
Documents à TéléchargerVernis Dual-Cure / Vernis de Protection