Encres Miroir et Encres à Effet Métallique
Mirror Ink M1
Special metallic screen printing ink for printing chrome effects
Contactez-nous maintenant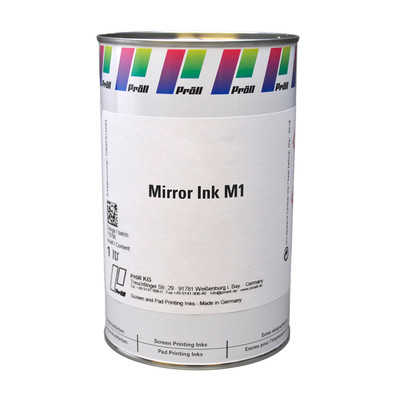 The ink system is used for second surface decoration of transparent plastics and films (PC, PMMA, PVC rigid and pre-treated PET films).
While drying, the metal pigments are aligned parallel to the substrate's reverse site.
Viewed through the transparent material from the first surface, the pigments create a mirror like effect. To improve the resistance of the printed mirror, Mirror Ink M1 should be overprinted with a mild solvent-based ink system (NORIPHAN® N2K) or a water-based screen printing ink (Aqua-Jet® KSF).
If inappropriate solvent-based ink systems and thinners are used, the mirror will be damaged. Mirror Ink M1 shows good printing properties. Large areas and fine details can be easily printed. Due to the pigment particle size, fabrics from 77-120 threats/cm (195-305 threats/inch) are recommended.
Plus d'informations sur: Downloads
Documents à TéléchargerEncres Miroir et Encres à Effet Métallique